Like today, advertising clocks were in wide use 125 years ago in hotels, the local dry goods store, or any place with heavy traffic. A firm in Sidney NY was at the forefront of this new "technology". But you couldn't buy one; they were specially made for business use only, like the following four advertising clock examples from other makers of the era: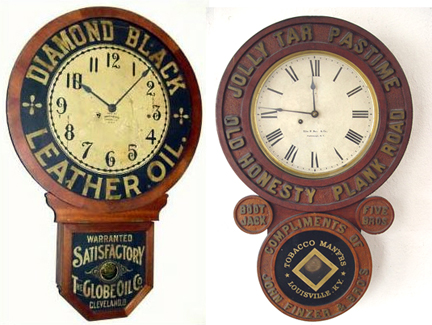 The Sidney Advertising Clock Company took out a patent in 1886 for the rotating cylinders in the bottom of the case that change the ad every 5 minutes.
There were at several case configurations, each a variation on the theme. And there were other case styles not shown here, but as typified by the patent above and original advertisements below:
The most common Sidney design came in several configurations: one has a gallery top built in at least two styles; another an extension of the case with additional ads on the front and, on some, on the sides; and two versions of a third style with a scalloped trim horizontally across the top of the upper advertising panel – one of those had a base like the first two, the other had additional advertising in a lower panel. There are likely more styles, photos of which we were unable to find. If you have photos of other Sidney Advertising clocks we would be pleased to share them here. (Most photos below are clickable for a larger image.)
The bottom section of the Sidney clock has three revolving cylinders, each with four curved slots that hold advertising cards. Every 15 minutes a bell rings and the cards rotate one quarter turn, displaying a new ad.
The revolving cylinders are driven by a secondary movement mounted horizontally in the bottom of the case above the cylinders.
These clocks were given to a company but then fees were charged for the ads. The name of the retailer was often painted on the dial as gratis advertising. For that bit of free advertising, the retailer agreed to maintain the clock in working condition.
Other advertisements appeared on the glass above the rotating cylinders.
A typical Sidney Advertising Clock as shown in the photos above was between 5.5-6' tall, nearly 20" in the trunk and 28" in the base. Most models had a calendar movement showing the date on a third hand.
The heavy-duty eight-day brass. spring-driven movements were made primarily by Seth Thomas in CT and marked "Pat July 20, 1886". Some New Haven movements and possibly some from the Sessions Clock Company were also used. (If you have a Sidney clock with one a non-Seth Thomas movement we would appreciate the opportunity to share the photos in this article.)
The Man Behind Sidney Advertising Clock Company
(We need a Strait photo if someone digs one up from an archive somewhere.)
Andrew VanWoert Strait was bor n in West Oeonta, Town of Oneonta, May 12, 1849 . He learned the watch and clock trade in Owego NY around 1867. No other clockmakers are known to have been in that locale, though some well-known assemblers were also apparently in the area, but those associated with Strait's operation are unknown.
As far as case construction, Strait said to a reporter in June, 1888 that the "...neatest and best cases yet received by the company are made by Chas. A. Burr." We don't know more about him or any other Sidney casemakers.
Eventually Strait moved to Bainbridge NY, where he owned a watch, clock and jewelry store, later settling just a few miles northeast in Sidney NY in 1880. It was there that he began producing the advertising clock in his shop and store.
According to newspaper clippings on file with the Sidney Historical Association, the clock had a reasonably successful demand from innkeepers, restaurant owners, physician's offices and jewelers. A November 1886 clipping tells of a Mr. Jennings who went on a promotional tour for the company through Connecticut where the demand for the clock began.
In March 1887, another newspaper clipping says, "Phelps, Mills, Brooks, & Co. have decided to build a large 2 story building on Cartwright Ave, soon as the weather permits. It will be occupied by the Sidney Clock Advertising Co., and it is the intention of the company to manufacture the entire clock in their own building. The demand for these ingenious clocks increases each day, and the company unquestionably has before it a brilliant future."
A February 1888 article indicates the firm had built and sold 600 clocks to date. Demand continued to grow. An article from June 1888 said the Sidney Clock Co. was shipping about 50 clocks per month, with a large number of orders from southern Michigan .
Just a few months later, the company was making plans to move further west to Itha c a , purportedly because it could manufacture a better and cheaper clock in that city, greatly reducing expenses – especially for shipping. There was also a calendar clock factory in Ithaca in which the new Sidney headquarters were to be located. But from there, the story gets a bit mysterious.
Following that newspaper clipping of 1888, another appeared more than a year later, announcing the move to Ithaca again. From an Oneonta Star clipping of Nov. 4, 1905, "negotiations are underway for the removal to that place of the Strait & Williams clock works, from this village."
Meanwhile, in a booklet published by researchers in Ithaca NY a number of years ago, there was never any reference to the Sidney Advertising Clock or any reference to Strait. There has never been any resolution to that November 1905 Star clipping.
A July 1933 Oneonta Star obituary indicates Andrew Van Woert Strait died at his home on Pleasant Street in Oneonta at age 84; a long life in those days! Apparently, a number of years earlier he had built a home and shop on Pleasant Street, where he manufactured an electric clock for hotels and places of business which he continued until 1912. It appears Strait never actually went to Ithaca, and, instead, walked away from a successful manufacturing business in Sidney.

From his manufacturing days in Sidney, to later in Oneonta, Strait's patented advertising clocks remain popular with collectors today.
(If you have further information or photos you would like to share to be published here, please contact us by e-mail.)
~~ • ~~
Additional information about the Sidney Advertising Clock Co.
may be found in the NAWCC Bulletin Vol 32/1 • No. 264 of February 1990.