The "Santa Fe Railway System Standard Dial" with Montgomery minute numbering was unique to the Santa Fe line.
Photo Use
Courtesy of The Montgomery Family
Henry S. Montgomery was Santa Fe Railway's general watch and clock inspector from 1896 to 1923, and by 1906 perfected a dial with upright minutes, from 1 to 60, printed on the outermost part of pocket watch and clock dials.
Here is a link with more detailed historical information about Montgomery watch dials in particular (scroll down the page to the paragraph titled "Marginal Minute Dials").
Unlike the smaller and more widely used Santa Fe standard station clock – with identical dimensions except for a shorter pendulum and six-inch shorter pendulum box – the "World" model regulators have a printed circle on the dial, containing a second hand. The circle is located above the center shaft holding the minute and hour hands.
This dial was commonly used on Seth Thomas regulators including the "short-drop", "World", and Regulators No. 2, No. 3, and No. 19.
Seth Thomas Regulator No. 2
Seth Thomas Regulator No. 19
Seth Thomas Short-Drop Station Clock
Seth Thomas "Long-Drop" Station Clock (Globe model)

Seth Thomas "Long-Drop" Station Clock (Globe model)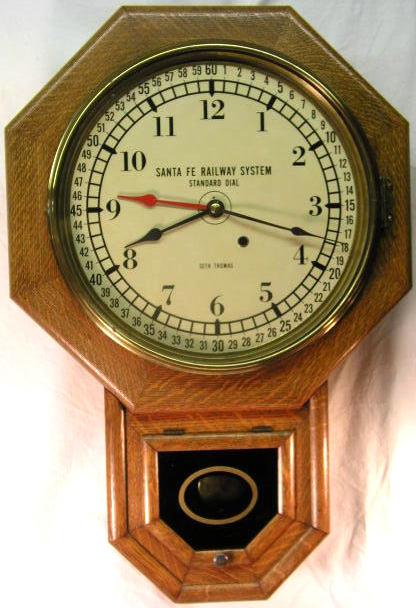 Seth Thomas Short-Drop Station Clock
Seth Thomas Regulator No. 1
Seth Thomas Regulator No. 2

Seth Thomas Regulator No. 2

Seth Thomas "Double-Time" for the Railroads
Some clocks in the SFRY system used only the simple moniker
"Santa Fe Route" on the glass.
Seth Thomas Regulator No. 19
Seth Thomas Regulator No. 19
The clocks immediately above are Seth Thomas
Regulator No. 19 - perhaps the most prized of the
ST Regulators - especially with a Santa Fe dial and glass.


Some railroad locks carried signage indicating
time variance to "Railroad Standard Time" as you can see
in this photo of a SFRY telegraph office (click to enlarge) .
Others had "City Time" (or "Local Time") and "Railroad Time"
on double dials (though following example below is not SFRR).

Here's an article about Railroad Time:
(click to enlarge)


In later years, trying to make their clocks look "modern",
SFRR "modified" (actually, hacked up) Reg. 19s to make an odd-ball-looking
remnant clock that used a SFRY-made door. The following two photos
are of one of those (extraordinarily rare) SFRY clocks that we sold in 2007.
It has the common signage that you can also see in the telegraph clocks
further above, indicating the accuracy of the clock.
Clocks weren't the only SFRY inventory
to go through the "chop shop"!
SFRR Dispatch Fresno, CA
Seth Thomas SFRY Reg 19 in background
with finials, without crown piece likely removed because of
space limitations so it could be high enough for the disptatcher to see.
( click to enlarge)
All clocks in the SFRY system were regularly maintained
and had a Time Service Department label.
In 1969, Santa Fe authorized sale of its mechanical clocks.
Following is a photo of Bob Wells, then Assistant Watch Inspector
and a pair of visitors with a wall-full of Santa Fe clocks in the background.
Note that not all Santa Fe clocks had the Montgomery dial.
The movement in the foreground is a 15-day Seth Thomas
from a "World" model like the visitor is holding.
Note also a variety of Seth Thomas "short-drop" station clocks
as well as large gallery clocks, and Regulators No. 18, 19, and 3.
Lots of "railroad" clocks are being created created from scratch
today (or with repainted dials) and sold as originals, including
from dealers in IA, OH, and Northern CA. Do your homework
before purchasing and know the dealer!
SFRY Timekeeping article from 1949

Seth Thomas manufactured a very limited number of this clock
which they labeled "Precision" and which appeared in their 1888 catalogue.

This Precision Cock from Seth Thomas was acquired by H.S. Montgomery
to protect against interruptions of time signals sent daily by Western Union.
Following is a photo from the SFRY archives showing Arthur J. Strobel, who headed the SFRY Time Service Department at the time. (click to enlarge).



The photo above is one of several pictures, that Santa Fe supplied
to the "Watch Master Timing Machine Company" during World War II.
Watch Master sent their newsletter to all of the jewelers
and watchmakers to promote their machine.

SFRR Seth Thomas 8-Day Precision Astronomical Regulator
with mercurial compensating pendulum and gravity escapement (62"h; 14" dial)
ref: Seth Thomas Clocks & Movements, Third Edition,
Tran Duy Ly, 2004, p.428

This clock is presently located in the visitor's center
of the Burlington & Santa Fe Railroad in Fort Worth, TX.
It apparently was shipped from Topeka to the SFRY offices in Chicago
and subsequently to TX.

This example, badge number 102, was in service with the Santa Fe Railway
by 1904. It has a gravity escapement and oak hood which was
pictured in a 1907 newspaper article about the clock. The article
stated that the clock was used to automatically update the
time in ten states through the telegraph wires. The clock was
located in the General Watch & Clock Inspectors office in Topeka
until the close of the office in 1989. The clock is wound by
removing a plug in the glass hood and inserting a winding crank.
Two weights travel down the sides of the clock. Even the
pulleys were jeweled in this technological masterpiece.





The original price of the (gravity escapement version
of the clock was $1,350 with the standard case shown below.


Original Seth Thomas Precision Astronomical Regulator catalogue drawing;
with dead beat escapement
There are several examples of this rare clock in existence,
including one at the U.S. Naval Observatory and another in Hawaii.
The Hawaiian clock is set up for "sidereal" (observatory) timekeepking.
Those with the dead beat escapement had the plain case shown
in the catalogue and the gravity escapement models had the wooden hood.

Another pair of of this model apparently came from an observatory
in South America and were last known to be in New York,
with badge (serial) numbers 11 and 12. Here is a badge example with the
Seth Thomas signature and indicating locations
in Thomastown CT and New York.
Dial from dead beat escapement model. Note that on the SFRY
clock above (gravity escapement model) the hour and second hand
subsidiary dials are reversed from the dead beat model.
If you own this model or know of the whereabouts of any others,
we would be delighted to be in touch with the owners to further document
this rare precision timekeeping machine!
---
Actor Michael Gross (Family Ties)
with his clock once owned by A.J. Strobel, General Watch & Clock Inspector
for the Santa Fe Railway. The photo was taken 08-07-1997.

AT&SF Historical Article & Photos