Clock Guy Note: Lou Gazo was the first "clock guy" I ever met, way back in 1971. At the time he lived and worked in an old Victorian house at First and Grape Streets in the glide path of San Diego's Lindbergh Field. Every time a plane landed the whole house shook! It was Lou who repaired some of the first clocks we purchased, including the big tallcase clock that still adorns the entry of our home in Vista, CA. We have fond memories of him.
Lou Gazo, who was born May 26, 1920, had an interest in and collected clocks and while his son, Ed, was stationed in Germany as a member of the U.S. Air Force, Lou would send Ed money to purchase antique German clocks. Ed bought clocks and shipped them home to his father who would repair, restore, and then sell them. Lou and his wife, Cleo, relocated from Menlo Park, CA, to San Diego, CA, in 1971 where they lived in a colonial style home at First Avenue and Grape Street.
That's where I first met him. The family lived upstairs while pursuing clock repairs and restoration as a hobby in the shop they had set up in the basement and garage of the house. Their hobby expanded by purchasing clocks from the Francis family, who owned a six-story import business and warehouse at Island Avenue and 6th Avenue in San Diego. In 1972, their purchases exceeded the available space in their home, so they rented a warehouse on Market Street to store excess inventory. That same year, Ed was honorably discharged from the Air Force and returned to the San Francisco Bay area.
In 1973, Ed and his sister Renee relocated to San Diego, and the family began to entertain the idea of forming a clock company.
Renee & Ed Gazo (right) with salesman.
By this time, Lou was running the clock shop and attended to casework repairs and restoration while Ed repaired the movements. However, they found it difficult to restore some of the ornate carvings on some of the European clocks purchased as imports. Further, the family wanted to manufacture the entire clock and embellish the case with carvings as found on European-style clocks. So, in 1973 or 1974, the Gazo Family Clock Factory was formed and transformed the basement hobby clock shop into a family business with Lou and Cleo as the principals.
In 1974, Beto Martinez, a businessman from Mexico, approached the company and offered to provide skilled wood carvers. An agreement was reached with Creationes Internationale whereby workers would carve ornate patterns for the company's clocks, rough assemble the cases in Mexico, and ship the cases to the Gazo factory in San Diego.
In San Diego, the cases were fine-finished, stained, the solid brass hardware was applied, and the movement was mounted. Case production outran the supply of movements and the company removed movements from older, dilapidated cases and used the movements in their own cases.

Finished Gazo cases awaiting movements
(Gazo "Angelino" facing camera, SFO in back)
Working on Gazo "Santa Clara" model

Working on Gazo "Santa Clara" model
Gazo "Santa Clara" models await movements
Working on Gazo case heads
Tools of the trade – Gazo factory
Gazo "San Gabriel" models await movements
Renee Gazo signing "Rancho Santa Fe" model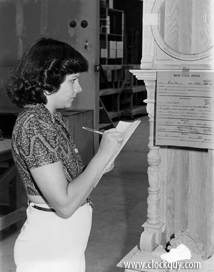 Renee Gazo checks Bonita shop work order
Also that year, the company was approached by the German firm, G. Jauch, who proposed that Gazo use Jauch movements in their clocks. An agreement was reached and the Jauch movements were soon in use by the firm. Later on, the firm also used Keininger movements in its larger wall and floor-standing models.
In 1974 or 1975, the company was incorporated and the name was changed to The Gazo Family Clock Factory, Inc. At about this same time, they relocated from First and Grape streets to near the corner of 10th Avenue and "G" Street in San Diego.
The company remained in this facility for about three years and subsequently continued to store cases and inventory there after relocating to National City.
Gazo clock dials began as off-the-shelf items, but eventually they became unique. Art Connors, a photo-etch lithographer, began to etch the company's dials that were initially based on 16th Century art and designs. This proved to be very intricate and overly detailed so they simplified the dial patterns. Eventually, the dial design was also etched into the weight tubes and pendulum bob. The Connor shop was located near the company's 10th and G street facility.